FlexispY feature reference
|
All

Spycall
Spy on a Phone's Surroundings
If you want to instantly listen to your child or employees' phone surroundings, secretly and in real-time using your own phone, then you need Spycall from FlexiSPY. Just enter your phone number inside your FlexiSPY online account and then call their phone from your phone when it is not in use to be patched in secretly to start listening immediately.
Play Video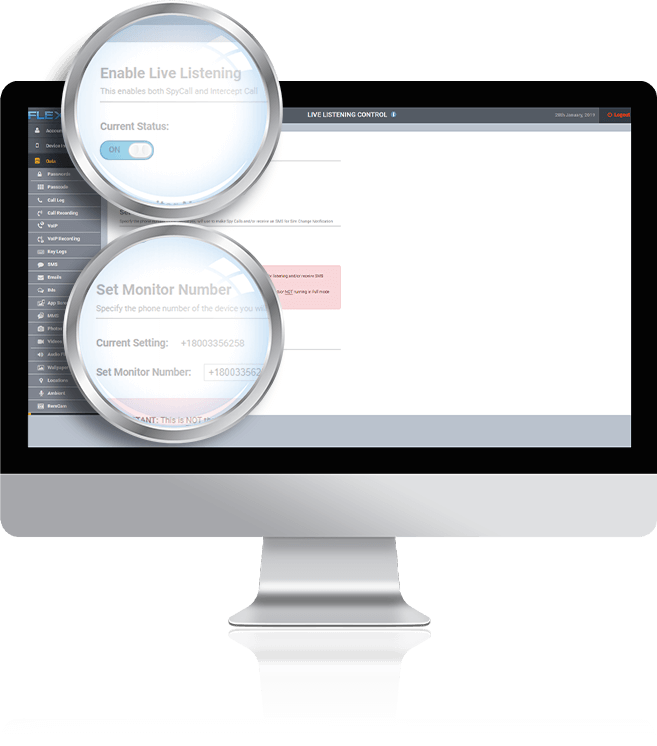 What you can do with our Spycall feature
If you want to listen to where someone is right now, in real time, without them knowing then FlexiSPY and its Spycall feature give you the power to hear exactly where they are just by calling them on your own phone when their phone is not being used and is idle. You will be able to understand exactly what is happening around them, while they will know nothing. Their phone will perform and function exactly as if nothing is happening making you safe from detection at all times.
Use your own phone to listen in secret instantly and in real time
Works when their phone is not in use, so you are never detected
Their phone looks and functions normally all the while you are listening in
Why You Need Spycall
Have you ever asked yourself:
What do they really think about me?
Are they being professional while I'm away?
What's going on in the meeting?
Is my Child being bullied?
These are all questions we ask ourselves daily but are ordinarily unable to answer. FlexiSPY changes all that by enabling you to finally listen in on what's going on beyond your hearing range.
Benefits for Parents
As parents, you will always do your best to protect your child. However, in a world where the average child aged 8 to 18 spends a third of their day hidden away in front of a mobile device, keeping an eye on your children has never been more difficult.
Is your child meeting a stranger at the mall? Would you consider them a troubled teen? Do they have a history of drug abuse or addiction? If these scenarios ring a bell, you will no doubt be curious about what your child is up to. Our spy call feature allows you to hear what is being said in your child's surroundings. Moreover, it will enable you to know where they are and who they are with, at any time. Providing concerned parents with some much-needed peace of mind.
Benefits for Employers
Employee monitoring is on the rise, with businesses moving to protect core assets and get eyes on employees whose actions can have significant impacts on a business's bottom line.
As the recent Goldman Sachs 1MDB Scandal that caused the company's shares to drop 35% demonstrates, the actions of 1 rogue employee can cost an organization millions of dollars.
As much as you trust your workers to use their phone's responsibly, you'll always have a few employees who you may need to check up on. Is an employee making deals for their own private benefit? You might be surprised. Is a government employee taking bribes? We've seen time and again that this is the case. Our Spycall feature provides you with the information you need to make crucial business decisions and gathers evidence to prosecute wrongdoers.
Benefits for Individuals
Spycall also offers benefits for personal use. Think of how many times you've misplaced your phone, would you like to find out where it may be as well as identify who has taken it? Simply install FlexiSPY on your own device and listen in on your phone's surroundings to help with tracking and recovery. Track and recover it. This is one of the many use cases of how the Spy Call feature can be useful for personal benefit.
How does it work?
FlexiSPY is easy to setup and use
1

PURCHASE LICENSE

---

Purchase a FlexiSPY license for the target phone

2

ACTIVATE TARGET PHONE

---

Install and activate the license on the target phone

3

ALL DATA GETS CAPTURED

---

Calls, SMS messages, contacts and call data is captured

4

DATA GOES TO

FLEXISPY SERVER

---

All call data is uploaded to your secure account to view

5

VIEW THROUGH

WEB ACCOUNT

---

All data received can be accessed Round-The-Clock via any computer
If you're a parent or an employer, you have a duty to know — Discover the truth, spy on their phone or tablet
Buy Now