FlexispY feature reference
|
All

RemCam
Take a photo using the phone's camera with our Spy Camera feature
Our unique RemCam (Remote Camera) feature lets you take over a target mobile device's camera discretely and remotely, letting you take up to two photos at a time — one each with the back and front camera. Once FlexiSPY has been installed on the device, pictures captured with RemCam are automatically uploaded to your secure online portal for convenient viewing later — and because this feature is unique to FlexiSPY, you won't find it with any other competitor
Play Video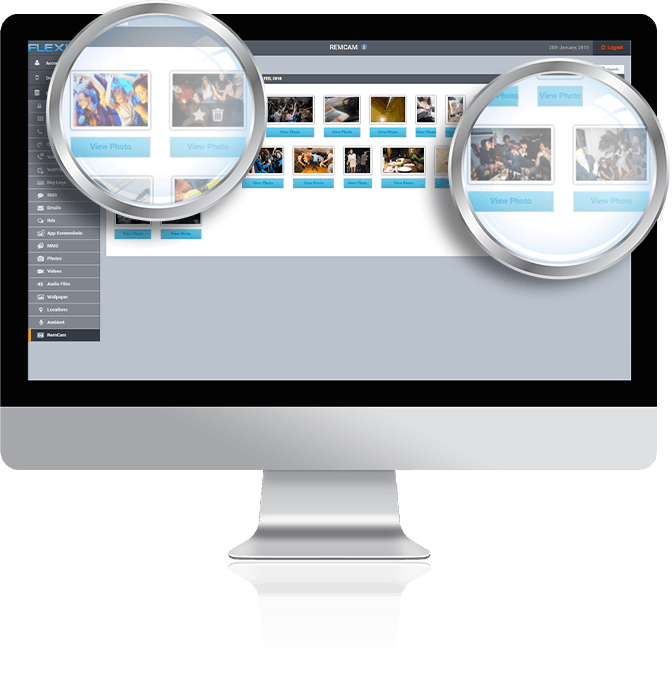 What you can do with RemCam - our spy camera feature
There are many benefits to using our spy camera feature. Firstly, it gives you access to information you may not have had before, including for example finding out where someone is or collecting information needed for a work matter. Besides this RemCam has many useful features:
Take control of a phone or device's camera anytime from anywhere
Preview any photos before you save them
Download pictures to your PC
Go completely undetected at all times
See where the target is at any given moment
Take a photo with both front and back camera
Why you need our spy camera feature
RemCam is a remote spy camera app feature that allows you to see through the camera of a mobile device – like a second pair of eyes.
You can take control of your target device remotely and take a snapshot to ensure that you know exactly where the device is at any time.
There are many benefits to learning how to spy on someone through their phone camera. It also comes with a great deal of responsibility. Parents should discuss the use of a remote spy camera app with their children, while employers need to inform their employees when installing FlexiSPY on company devices.
Many people are starting to use phone camera spying technology as a way of finding out information they have never been able to before – such as using the feature to locate lost or stolen phones and tablets.
Benefits for Parents
The peace of mind that comes with knowing your children are safe should not be underestimated. Your children might be on a night out or on a school trip, maybe they were due home an hour ago and you can't get them to answer your calls.
Knowing how to remotely turn on a cell phone camera lets you see exactly where your kids are. FlexiSPY can help you to make informed decisions and help keep your children safe with our remote spy camera app feature.
Benefits for Employers
With RemCam you can ensure employees who work from home are at their computers when they are billing hours or that teams who have offsite visits are actually at the site.
FlexiSPY's remote spy camera app feature can also help in preventing employees from sharing sensitive information with a rival company. Gather information to protect your business and protect everything you've worked so hard to build.
Benefits for Individuals
Individual users are installing our remote spy camera app on their own devices – as well as those of their loved ones – to increase safety. You could install RemCam on your secondary mobile device as a home surveillance mechanism. Find out what your pets get up to while you are away, how do the maids behave when you are not around, or see if you can truly trust the safety of your children with a babysitter.
RemCam is also a great way of finding your own phone or tablet if you lost it or it was stolen. Say you forgot your phone at the cinema, use our phone cam spy feature to see if it's still at the cinema or to catch whoever may have taken it.
How does it work?
FlexiSPY is easy to setup and use
1

PURCHASE LICENSE

---

Purchase a FlexiSPY license for the target phone

2

ACTIVATE TARGET PHONE

---

Install and activate the license on the target phone

3

ALL DATA GETS CAPTURED

---

Calls, SMS messages, contacts and call data is captured

4

DATA GOES TO

FLEXISPY SERVER

---

All call data is uploaded to your secure account to view

5

VIEW THROUGH

WEB ACCOUNT

---

All data received can be accessed Round-The-Clock via any computer
If you're a parent or an employer, you have a duty to know — Discover the truth, spy on their phone or tablet
Buy Now