FlexispY feature reference
|
All

Instagram
Spy on Instagram Messages with our Instagram Spy App feature
Instagram Message Tracking is a FlexiSPY feature that allows you to remotely spy on the Instagram messages of your child or employees. Once installed on their phone, FlexiSPY will capture both sent and received messages and will upload them to your secure online portal where you can conveniently read through them later.
Play Video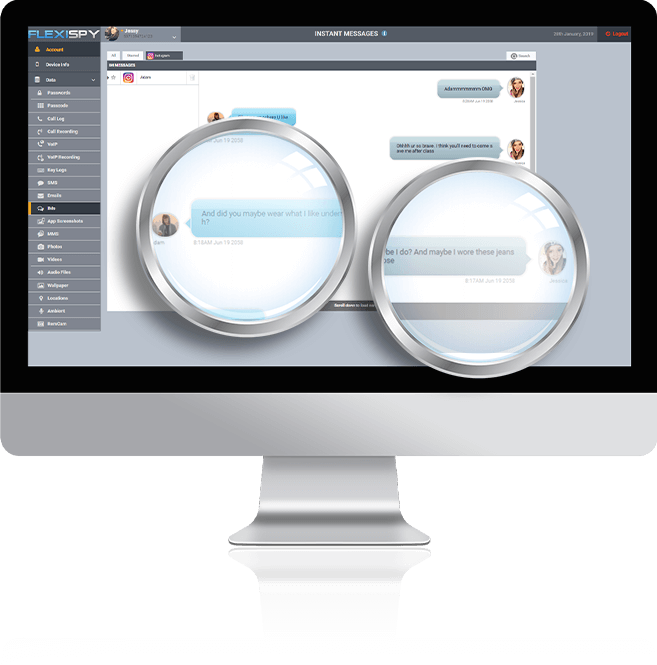 What you can do with our Instagram Spy app feature
Our Instagram spy app feature makes it easy for you to remotely track and view private Instagram messages that are sent to and from a target device. The software allows you to effectively protect yourself, your children, and your business from others who may have ulterior motives.
With our Instagram tracking feature, you can:
View messages that are exchanged on Instagram chat instantly and in real-time
Access entire threads on your PC via our secure, user-friendly dashboard — or on-the-go with the FlexiVIEW app
Star favorite conversations to read through them easily later
Why you need to spy on Instagram Messages
A lot of information gets shared on chat platforms. While most of it is random and fun, some of it can be sensitive and have greater consequences. Tracking private Instagram messages lets you know the moment when critical information is being shared so you can limit any damage this may cause or keep a record if you need it later on. Whatsmore the latest version of our Instagram tracking feature even allows you to see the Instagram Stories that are sent or received as direct messages on the target phone.
Benefits for Parents
Your child loves Instagram for how easy it makes it to share images of their life and interests with their friends and other followers. But, just like any other social media out there, it can invite the wrong kind of attention.
If you're wondering how to protect kids on Instagram from exposure to unsolicited direct messages, online bullying, and potential fraud, search no more. Our Instagram monitoring app feature is the best solution because it makes it possible to view private Instagram messages remotely, so you won't need to inconvenience your son or daughter by taking their phone from them.
By simply installing FlexiSPY on your child's smartphone, you'll automatically have access to our Instagram parental controls and be able to monitor activity discreetly – allowing you to act fast if any keywords or contacts raise alarm.
Benefits for Employers
If you're a business-owner, you may give your employees access to your company's social media accounts so they can get on with the job of marketing your brand, product or service. In fact, Instagram can be a great way for your staff to showcase what you offer and to communicate directly with your customers.
View private Instagram messages being exchanged by your staff and keep track of the kinds of information being shared. More importantly, you can protect your business by ensuring that confidential business information isn't being exposed unintentionally.
Benefits for Individuals
Have you ever deleted an Instagram chat by mistake that you desperately need to get back? Do you need a backup and record of all your message exchanges? If this is you, our Instagram monitoring app feature can be useful for your personal use too. Installing FlexiSPY on your phone means that you won't have to worry about losing your chat messages again, no matter how long ago they happened.
How does it work?
FlexiSPY is easy to setup and use
1

PURCHASE LICENSE

---

Purchase a FlexiSPY license for the target phone

2

ACTIVATE TARGET PHONE

---

Install and activate the license on the target phone

3

ALL DATA GETS CAPTURED

---

Calls, SMS messages, contacts and call data is captured

4

DATA GOES TO

FLEXISPY SERVER

---

All call data is uploaded to your secure account to view

5

VIEW THROUGH

WEB ACCOUNT

---

All data received can be accessed Round-The-Clock via any computer
If you're a parent or an employer, you have a duty to know — Discover the truth, spy on their phone or tablet
Buy Now