FlexiSPY EXPRESS - All the features with
none of the hassle
Why Choose FlexiSPY For Your Monitoring Needs?
FlexiSPY offers the following benefits:
More monitoring features than any other product

Record, intercept, and listen in on live phone calls

Spy on the most popular IM's, including Facebook, Viber, WhatsApp + 9 more

Turn on the phone's microphone and record its surroundings

Record VoIP Calls: Skype, Facebook, Viber, LINE, and more

Spy on SMS, Emails, and Photos

Runs in hidden or visible mode

The only monitoring software with a FREE Mobile Viewer App
Excerpts From Real FlexiSPY Reviews
"Personally, I have used other tools before like Mobile spy but I have to say FlexiSPY is the best among all these."

- S W

"I have a business and need to keep track of my trucks. I would definitely recommend using this product if you are trying to keep track of someone or something!"

- Paige

"I used this to monitor my son to see if he was going anywhere before or after school. I was quite impressed with the accuracy of the locations."

- Farah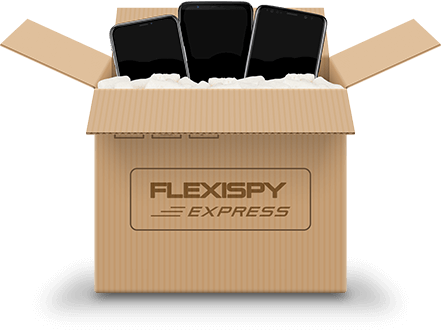 Which Version Of FlexiSPY Should I Choose?
FlexiSPY EXPRESS comes pre-installed with your choice of FlexiSPY's software — either PREMIUM or EXTREME, available on two platforms.
Decide which version of FlexiSPY you want, make your purchase and your phone will be in your hands in a matter of days. No installation, no hassle and all phones are covered by a one year warranty.
No hassle, No installation — Ready on arrival.
Speak with Live Chat who are ready to answers any questions you may have
How Can I Get FlexiSPY EXPRESS?
Step 1

Come to live-chat to ask questions and purchase a FlexiSPY license.

Step 2

Select and purchase the phone of your choice from our trusted third party vendor.

Step 3

Await the arrival of your phone — which comes pre-installed with your FlexiSPY subscription.

Step 4

Log in to your FlexiSPY online portal and start viewing captured data.
Your Most Common FlexiSPY EXPRESS Questions Answered
What Is FlexiSPY EXPRESS?
FlexiSPY EXPRESS is a service provided by a trusted third party vendor to deliver a phone preloaded with FlexiSPY direct to your door.
Is this the same as your worry free Installation service?
No it is not. The Installation service will remotely install FlexiSPY onto your own device, using a PC and Internet connection.
Where do I get support for FlexiSPY EXPRESS?
You can get software support from FlexiSPY. Hardware support and warranty is provided by our partner.
Where does FlexiSPY EXPRESS ship?
The service ships worldwide, and shipping rates and taxes will be calculated during checkout.
For any other shipping questions, please contact our partner using the Live-Chat on this page.
What is the shipping and return policy?
Shipping rates and taxes will be calculated during checkout based on the option selected. If there is any problem with the phone, we will work with you to fix it to your satisfaction.